I say it EVERY year...I can hardly believe how fast this year has gone by! It is unbelieveable to me. Every single year! Ha! There's just something awesome & bittersweet about the end of something because something new & exciting is coming next.

I think the best part about the end of a year is the reflection process that we go through. Looking back on goals we've accomplished, struggles we've faced & gotten through, mistakes we've made & the little victories & milestones that are spread out along the way. Even in the midst of our mistakes & our victories...God is right there next to us...cheering us on. Desiring for us to live our lives for him, through him & HIM alone.

My reflections for 2009 put me all over the map with how I feel things went. In some areas of my life I grew so much & in some areas, I still struggle or have questions. Neither one is better than the other. It's all a part of life, growing & seeking out our purpose in Christ. I'm really looking forward to 2010. Mainly, because I want to live my life outloud. I want to seek God honestly in every decision; in every opportunity. I'm tired of trying to figure out what we should be moving toward next. I'm tired of making some decisions on the fly & not consulting God in everything. It's so easy to do! We're all guilty of it. However, I know that God always keeps his arms open & his heart full for us. And even in the midst of our selfishness, he still blesses us & shows us the way he wants us to go. Easy? Absolutely not. Essential? Absolutely.

Here's to a new year, a new perspective & a new opportunity to serve on behalf of the one who gives us life! My prayer:

Thank you, God, for all you have given us! Help us to never forget to appreciate all you've done & how you've blessed us because we're so busy trying to "get" to the next place in life or yearning to "have" more in life. We've got each other & our marriage, 3 beautiful, healthy children, a roof over our heads, food on our table, jobs to provide income & an amazing abundance of friends & family. Help us to be more grateful & thankful for what we have rather than what we don't have. Help us to be more appreciative of where we are in life & where you've brought us from. Help us to remember your faithfulness & your sovereignty every single day. Help us to teach our children holy gratitude because of what you've done for us.

Quote from one of the Pastors at our church this past Sunday:

"We would be so much happier if we just appreciated & focused on what we DO have instead of what we don't have.

Isn't that the truth?

2010: Here's to living out our happiness & joy in God for all he has done & given to us!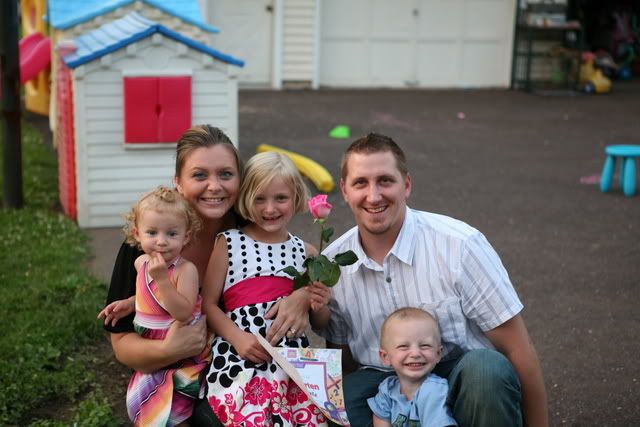 This is a picture from a few years ago...I can hardly believe how much the kids have grown! See...time goes by SO fast!